Complete Bathroom Renovations in Perth
Bespoke quality craftsmanship for bathroom renovations in Perth
What are bathroom renovations in Perth?
A bathroom renovation involves several tradesmen to execute the entire construction process, such as the removal of tiles and fixtures, waterproofing, lighting installation, electrical wiring connection, tiling, plumbing and painting.
With Amedeo Properties, there are no big or small bathroom renovations, as we deliver the same standard of quality to complete bathroom renovations – a touch of professional work with the passion of decades in the building industry.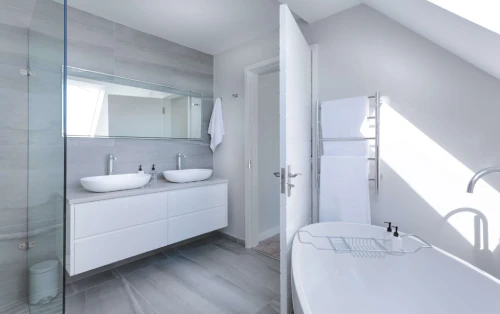 Full Transparency in Complete Bathroom Renovation Cost of Services
We understand that the expense for a bathroom renovation can appear exorbitant. However, if you can appreciate a beautiful bathroom experience, then you can understand the amount of effort and realise the value of the materials used in its construction. The costs involved in a bathroom renovation or makeover project can be dependent on different factors, such as:
Bathroom area size
Materials such as the tiles, fixtures, paint, etc
Fittings and preparing provisions in the design
Hiring tradespeople and completing man-hours for:

Wall demolition and tile removal
Repairing walls and construction
Waterproofing, tiling, plumbing
Electrical, equipment installations

Securing the necessary permits, if any
Moving and relocating certain utilities such as plumbing components
A bathroom renovation for smaller properties can cost around $20,800 to $27,000, whilst larger and more intricately designed bathrooms can cost around $30,000, which is surely going to be worth it.
If you're interested in getting your home or building bathroom renovated, don't hesitate to reach out. Request a quote today!
Amedeo Properties Provides End-to-End Bathroom Renovation Services
For quality craftsmanship that goes with generational stonemasonry secrets, Amedeo Properties has more than three decades of experience in building, construction and renovation. From start to finish and until turnover, our clients have nothing to worry about – from undesirable spaces of filth, their bathrooms are going to be rebirthed as a sanctuary for their "Me Time."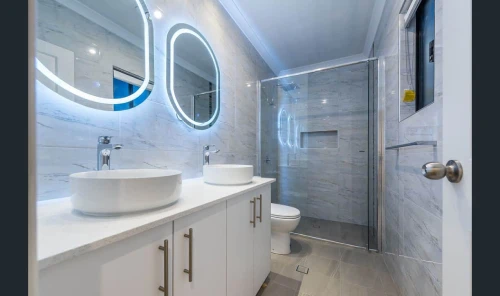 We're just a message away!
Want to work with us on a bathroom renovation project? We're all ears.